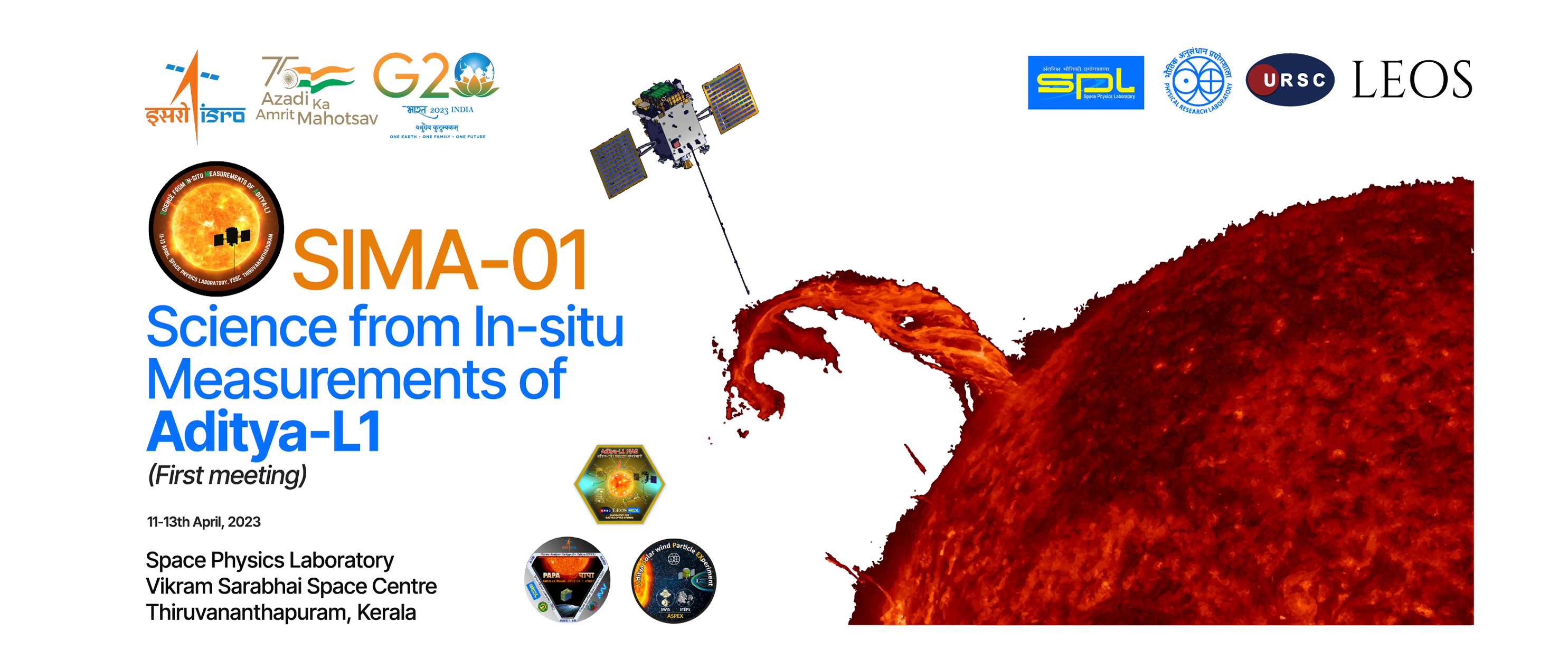 Science from In-situ Measurements of Aditya-L1 (SIMA-01)
11-13 April 2023 
Space Physics Laboratory, VSSC, Thiruvananthapuram, Kerala
This conference is organized by the Space Physics Laboratory, Vikram Sarabhai Space Centre, Thiruvananthapuram, Kerala. It is organized to give an overview of the in-situ payloads [Aditya Solar wind Particle Experiment (ASPEX), Plasma Analyser Package for Aditya-L1 (PAPA) and Magnetometer (MAG) onboard Adity-L1 and their capabilities. Potential science problems that can be addressed by their observations will be discussed with the researchers from various Institutes and Universities across India. This will provide an excellent opportunity for the Indian Space science community to have interactions with Principal investigators (PIs) of the respective payloads and leading researchers in the field for mutual collaborations.
Download the Program Schedule here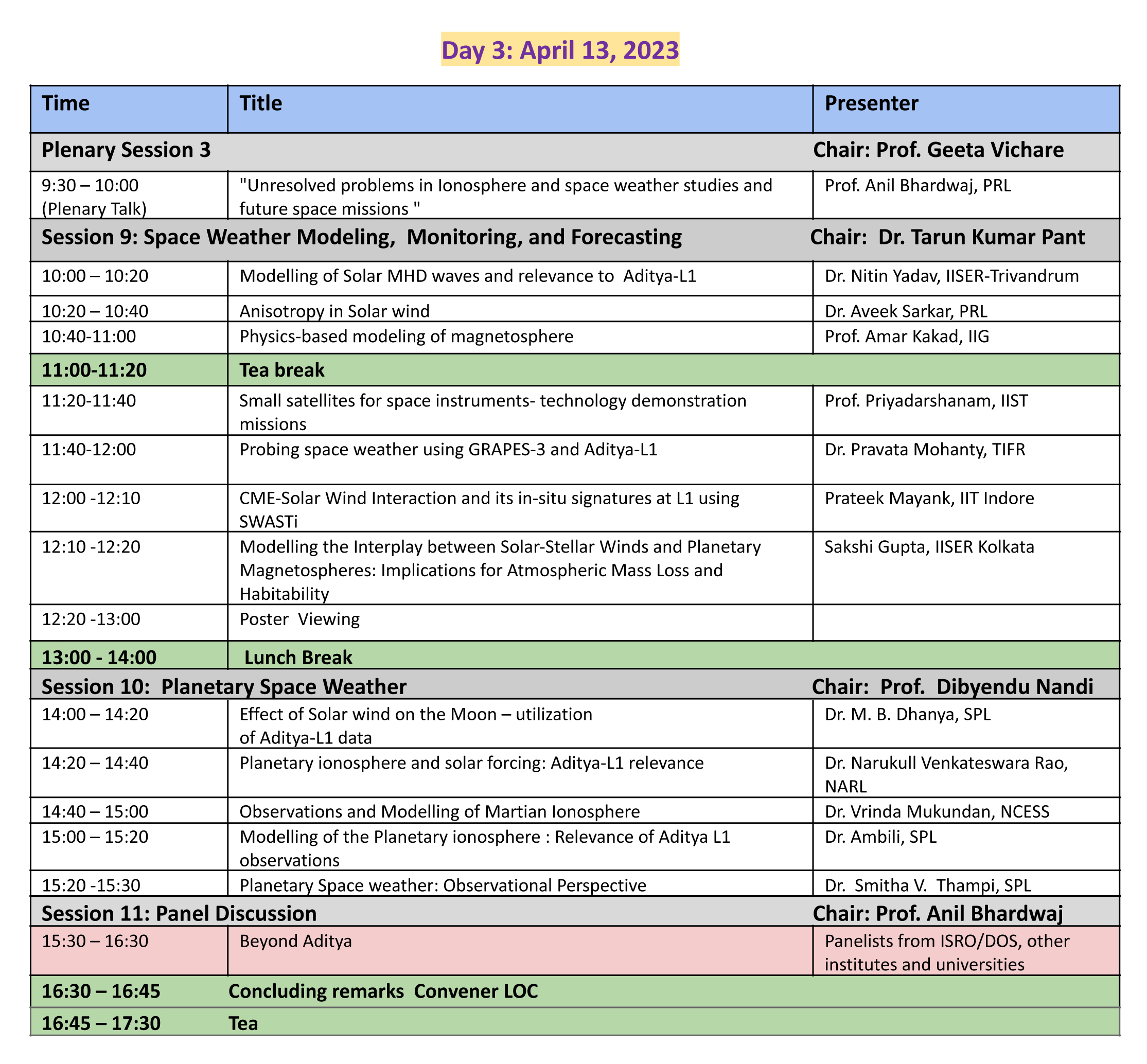 ORGANIZERS:
SCIENTIFIC ORGANIZING COMMITTEE
Dr. Anil Bhardwaj, Director, PRL
Dr. K Rajeev, Director, SPL
Dr. Sriram K.V., Director LEOS, URSC
Smt. Nagar Shaji, PD-Aditya-L1, URSC
Dr. Tirtha Pratim Das, Director spo-ISRO-HQ
Dr. Tarun Kumar Pant, SPL
Dr. K. Sankaarasubramanian, SAG,URSC
Dr. Dibyendu Chakrabarty, PRL
Dr. Vipin Kumar Yadav, SPL
Dr. M Shanmugam, PRL
Ms. Y. Vijaya, LEOS
Dr. Mohammad Hasan, SPO, ISRO-HQ
Dr. R. Satheesh Thampi, SPL, Convenor
LOCAL ORGANIZING COMMITTEE
Dr. Satheesh Thampi R, SPL
Dr. Vipin Kumar Yadav, SPL
Dr. Smitha V. Thampi, SPL
Dr. Dhanya M.B, SPL
Dr. Venkataraman V, SPL
Dr. Ankush Bhaskar, SPL
Dr. Rubia R, SPL
Dr. Govind Nampoothiri, SPL
Dr. Mukunda Gogoi, SPL
Dr. Mridula N., SPL
Dr. Ambili K.M., SPL
Dr. Manju. G,SPL
Dr. Vineeth C, SPL
Dr. Venkataraman V, SPL
Dr. Md. Mosarraf Hossain, SPL
Mr. Chemukula Mathin Yadav, SPL
Mr. Abhishek J.K, SPL
Mr. Aneesh A.N, SPL
Mr. Ajay Anil Potdar, SPL
Ms. Salini MS,SPL
Ms. Simi Ismail, SPL
Ms. Indu Venugopa,SPL
Ms. Priya Pahwa, SPL
Mr. Shibotosh Biswas, SPL
Ms. Richa Naja Jain,SPL
Ms. Lalitha G. Krishnan, SPL
Mr. Manu T., SPL
Ms. Vishnupriya KS, SPL
Ms. Arya Ashok, SPL
Mr.  Reuben Samsun Yaqub, SPL
Mr. Soumyaneal Banerjee, SPL
Mr. Yoosaf N, SPL
Mr. Thanumoorthy S, PSO/AVN
Mr. Harikrishanan R, MSA/TTDG
Mr. Sivakumar S, CGHS
Smt. Kamalambika, PGA/GAD
Mr. Siavanandan. R, Head, TOMD/Representative
Smt. Sreekala. S, CACC
Mr. Sandeep. S S, PGA/PR
ACCOMMODATION:
VSSC, ATF Guest House, Veil, Thiruvananthapuram, Kerala, 695502 (Google Maps link to be added)
CONTACT US:
Convenor, SIMA-01
Space Physics Laboratory
Ph: 0471-2562158
Email: This email address is being protected from spambots. You need JavaScript enabled to view it.
ABOUT TRIVANDRUM:
Filled with nature's scenic beauty, Trivandrum ( Thiruvananthapuram) offers good sightseeing, and Kerala being 'God's Own country', Trivandrum has great places to visit. It is actually the 'City of lord Ananta' that symbolizes the deity of the 'Sri Padmanabhswamy Temple' located in the city. Literate enthusiasts can visit Nappier Museum, Planetarium, Space Museum. Varkala, Kovalam, Veli Beach adds feathers to the hat of the city.
Useful info:
HOW TO REACH
By Air: The nearest well-connected airport to the city is Trivandrum International Airport. The airport is approximately 8km from VSSC.
By Train: Trivandrum is well connected by trains to all major cities in India through Trivandrum Central and Kochuveli stations.